TwitterLink Comments – hassle free follow me links for your commenters
Introduction
No one can deny the power of Twitter as a social and marketing tool, more and more people are finding ways to use it to promote themselves, their sites and their businesses. There are a number of tools to help bloggers promote their site by automatically tweeting post titles and links to their timeline but if they have no followers, who is going to see them?
If you could help people get more followers and increase your own blog traffic and reader loyalty at the same time, wouldn't that be a great thing?
The Problem For Mu Blog Admins
Adding an extra field to the comment form isn't too hard, adding it to every themes comment form is! especially if you provide a large number of different themes for your users to choose from. And, some of your users might not want Twitter integration for their particular blog (not everyone is Twitter mad).
The Solution
I proudly present TwitterLink Comments. A user configurable plugin for blog owners that will add an extra field to the comment form allowing users who comment to add their Twitter username and then display it along with the comment, all without editing a single template file or function call.
How It Works
You have a choice of adding the field to the comments.php template or let the plugin do it automatically for you along with a message that you can configure in the settings page. The comment author only needs to put in their Twitter username once and every comment from them on the whole site will display a link to follow them.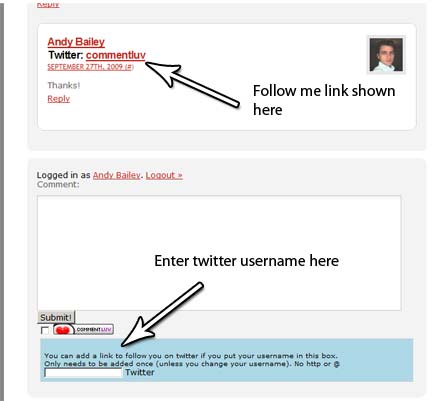 The field description, link position, format and action can be configured by the blog owner in the settings page including any extra html, classes and text that they desire.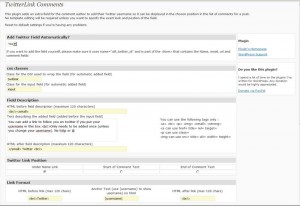 Features
Completely automatic, no configuring required.
Any HTML is filtered through kses using a custom array of allowed tags.
Set the link as nofollow and open in a new window
Fully compatible with Mu and Multi-db plugin.
Twitter link is shown on all comments for a user as long as they comment at least once with their username.
Localization support
Italian translation included
Installation
WordPress MU and WordPress
Upload the whole TwitterLink-Comments folder to the regular plugins directory and activate it.
Check the settings page in the dashboard and choose the description message and position/format/action of the follow link
Save the settings and check a single post as a user or logged out to see it working.
Download
You can download TwitterLink Comments at the WordPress Plugin Repository
(or search for TwitterLink-Comments in your plugin browser located in your dashboard)
Requirements
The plugin can run on WordPress and WordPress Mu at least version 2.8.
Notes
If you are adding the field for the Twitter id to your comments.php template file, you need to make sure that it has name="atf_twitter_id" and that you configure the settings page to not automatically add the field (first option).
The plugin adds a table to the database called {prefix}wptwitipid (ie. wp_wptwitipid). The table is removed if the user deletes the plugin using the delete link on the plugin page once it has been deactivated.
All inputs are validated and any HTML is passed through kses using a limited set of HTML tags so there should be no worries for Mu owners about their users using code that they shouldn't
Credits
Code, design and support : Andy Bailey http://comluv.com
Italian translation and localization testing : Gianni http://gidibao.net
Arabic translation : Firas http://www.webli.st/
Tags: